Find the right candidate for your job opening with a classified listing ad publishing in the Business section
Ideal For
Any business looking to fill an open position
• Print classified listing in the Business section, or choice of LA Times + Hoy bundle
• Online 30 days on careerbuilder.com
• Multiple sizes and design options
• Special Discounts begin at 3 and 7 days
• Prices start at $517.00 for a 5 line ad (includes $325 online charge for 30 days on careerbuilder.com)
• As shown below, a more detailed 37 line ad costs $1,608.13 (includes $325 online charge)
Sample Print Ad
Deadlines
Print Deadlines vary by the day of the week. The calendar used for scheduling your ad will only display start dates that are not past deadline. The deadlines are as follows:
| | |
| --- | --- |
| To see Ad on... | Submit By |
| Sunday | Friday 2PM |
| Monday | Friday 2PM |
| Tuesday | Monday 9AM |
| Wednesday | Tuesday 9AM |
| Thursday | Wednesday 9AM |
| Friday | Thursday 9AM |
| Saturday | Friday 9AM |
Note on LA Times + Hoy Bundle
Please note that publication dates for LA Times and Hoy ads may differ. If the same publication date selected for LA Times is not available for your Hoy bundle ad, the next available publication date in Hoy (either the Hoy Monday or Friday publication) will be selected.
Size
One or two column listings with multiple format choices
Reach
Full Distribution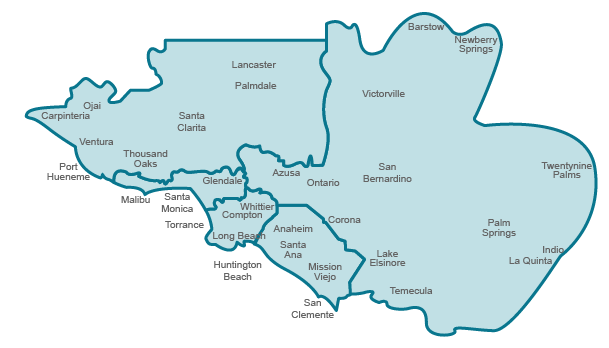 Los Angeles Times
Los Angeles Times
Reach details
#1 news platform in Southern California, delivering a larger audience than any local newspapers, websites, TV and radio stations.
Full Run
Reach details
Full Run
Weekday readership: 1.5MM
Sunday readership: 2.4MM
Circulation by day-Print
Weekday Avg. 408,000
Sunday 715,000
Sources: Circulation: March 2014 AAM Audit Report, L.A. DMA print only. Readership & competitive: Scarborough Los Angeles 2015 Release 2
To see a detailed map, click here.
CareerBuilder.com
CareerBuilder.com puts over 1 million jobs in front of poised job seekers wherever they are - at home or at work - in print and on the Internet. More than 10.3 million unique visitors come to the site every month to check out the opportunities in every industry, field and job type.