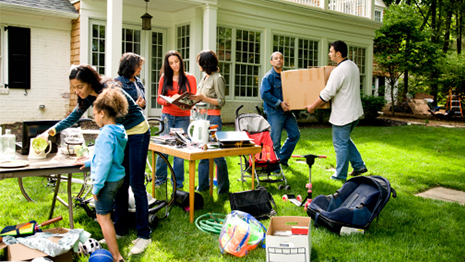 Anuncie sus ventas de inmuebles en los clasificados de Hoy. Advertise a Estate Sale with a classified listing in Hoy.
Ideal For
Advertising your Garage, Estate or Tag Sale
Ideal para anunciar tu venta de garage, de inmuebles o de etiqueta
Print classified listing in Hoy
Multiple designs available
Available in Friday, Hoy and Monday Hoy Deportes publications
Con esta opción obtienes:
Múltiples diseños a su disposición
Publicación en blanco y negro
Disponible en las publicaciones de Hoy viernes y Hoy Deportes del lunes
Deadlines
Print Deadlines vary by the day of the week. The calendar used for scheduling your ad will only display start dates that are not past deadline. The deadlines are as follows:

La fecha límite para impresión varía dependiendo del día de la semana. El calendario utilizado para programar tu anuncio sólo mostrará las fechas de inicio de las publicaciones que no se han pasado de la fecha límite. Las fechas límites de entrega son las siguientes:
| | |
| --- | --- |
| To see Ad on... | Submit By |
| Monday | 1PM Thursday |
| Friday | 11AM Wednesday |
Size
1-column
El tamaño del anuncio es de 1 columna
Reach
Full Distribution in Hoy
El anuncio aparece en la distribución completa de Hoy
Hoy - español
Hoy - español
Reach details
A twice weekly Spanish-language newspaper providing Latinos with the Hispanic perspective on everything from front-page news to entertainment and sports updates.
Un periódico en español que aparece dos veces a la semana, ofreciendo a los latinos la perspectiva hispana de todo, desde las noticias de portada, hasta la actualidad en entretenimiento y deportes.
Hoy Full Run / El anuncio aparece en la distribución completa de Hoy
Reach details
Hoy Reader Profile:
Education 70%+ HS Graduate Household income Average $49,000 Gender 53% female, 47% male Average age 42
Average household size 4
Households with children 56%
Perfil del Lector de Hoy:
Educación 70%+ Graduado de Preparatoria Promedio de Ingreso Familiar de $49,000 Sexo 53% Mujeres, 47% Hombres Edad promedio de 42 años
Tamaño promedio de las familias 4
Hogares con niños 56%
Source: L.A. market stats - 2012 U.S. Diversity Markets Report; Demo profiles: Hoy & Hoy FDS past 6 months- Scarborough Los Angeles, CA 2014 R2; Hoy & FDS readership based on 1.5 readers per copy; Hoy Circulation, Monday/Friday and Hoy FDS, CAC Audit report March 2014
Fuente: Estadísticas del mercado de L.A. – Informe de los Mercados de Diversidad de Estados Unidos 2012: Hoy & Hoy FDS de los pasados 6 meses - Scarborough Los Angeles, CA 2014 R2; El número de lectores de Hoy & FDS está basado en 1.5 lectores por copia; Circulación de Hoy, Lunes/Viernes y Hoy FDS, Informe de Auditoría CAC de Marzo del 2014
Reach Details
Hoy Deportes - Monday Distribution
Monday Circulation: 90,000
Monday Readership: 135,000
Hoy - Friday Distribution
Friday Circulation: 140,000
Friday Readership: 210,000
Available at 2,700+ racks in high Hispanic density zips
Detalles de la circulación
Hoy Deportes - Distribución del lunes
Circulación del lunes: 90,000
Número de lectores del lunes: 135,000
Hoy – Distribución del viernes
Circulación del viernes: 140,000
Número de lectores del viernes: 210,000
Disponible en 2,700+ estantes localizados en códigos postales con alta densidad hispana
Source: Circulation, Hoy Monday/Friday and Hoy FDS, CAC Audit Report March 2014; Readership based on 1.5 readers per copy
Fuente: Circulación, Hoy Lunes/Viernes y Hoy FDS, Informe de Auditoría CAC de Marzo 2014; El número de lectores está basado en 1.5 lectores por copia