Reach readers with interest in Los Angeles entertainment scene with an ad in the Daily Calendar and online at latimes.com
You Might Also Be Interested In
Ideal For
Book Retailers, Tickets, Events, Entertainment
For Print Only, your ad will appear in the Calendar section
Publishes Daily in black & white or color (color not guaranteed) with multiple sizes, designs and photo options available
For Print + Online, you get all of the above plus online placement on latimes.com
Online ad on latimes.com with entertainment and arts content
Choice of two impressions tiers 100,000 impressions over 3 days or 150,000 over 7 days
Ad will be posted 4 days after ad submission
Two sizes available: Cube (300x250 pixels) or Leaderboard (728x90 pixels)
Populate content and images in one of our predesigned templates or upload your own ad material
Ad will be clickable, driving traffic to your website
Multiple designs with photo options available
Sample Print Ad

Sample Cube Ad

Sample Banner Ad
Deadlines
Print Deadlines vary by the day of the week. The calendar used for scheduling your print ad will only display start dates that are not past deadline. Online ads will be posted 4 days after ad submission. The print ad deadlines are as follows:
| | |
| --- | --- |
| To see Ad on... | Submit By |
| Sunday | Tuesday 9AM |
| Monday | Friday 10AM |
| Tuesday | Friday 1PM |
| Wednesday | Monday 1PM |
| Thursday | Tuesday 1PM |
| Friday | Wednesday 1PM |
| Saturday | Thursday 1PM |
Movie Client Information
These rates do not apply to movie studios or for movie advertising. Contact our movie team at 213-237-6618 for information and to place your ad.
Advertising for Movies and Television Shows are full run only, no partial distribution insertions are accepted.
Size
For Print Ads, 1, 2, 3, 4 and 6 column sizes available with a variety of design options.
For Online, Cube (300x250 pixels) and Leaderboard (728x90 pixels) sizes available.
Reach
Full Run or zoned distribution for Print
DESIRABLE ONLINE USERS
61% of users are age 25-54
70% are home owners
23% have portfolios valued at $100K+
Median HHI of $85,000
MONTHLY TRAFFIC
Unique Visitors: 17 million
Page Views: 158 million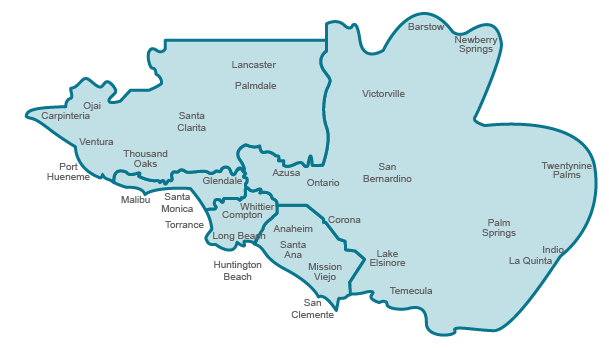 Los Angeles Times
Los Angeles Times
Reach details
#1 news platform in Southern California, delivering a larger audience than any local newspapers, websites, TV and radio stations.
East
Reach details
East Zone
Weekday readership: 684,644
Saturday readership: 619,573
Sunday readership: 1,078,454
Circulation by Day-East Zone-Print
Monday 200,795
Tuesday 200,922
Wednesday 200,984
Thursday 239,641
Friday 238,577
Saturday 237,410
Sunday 299,425
To see a detailed map, click here.
Full Run
Reach details
Full Run
Circulation
Demos:
Male – 54%
Female – 46%
Median HHI: $ 83,000
88% more likely to have a household income $250K
1 of 3 readers with HHI $100K+
74% are college educated
2.5x more likely to own a home valued $1MM+
Sources: Circulation: Q3 2019 AAM Quarterly report, Demos: Scarborough LA 2019 R2
To see a detailed map, click here.
West
Reach details
West Zone
Weekday readership: 757,400
Saturday readership: 739,161
Sunday readership: 1,532,239
Circulation by day - West Zone-Print
Monday 220,775
Tuesday 220,914
Wednesday 220,982
Thursday 263,486
Friday 262,316
Saturday 261,032
Sunday 468,454
To see a detailed map, click here.
Latimes.com
latimes.com is a national powerhouse, attracting over 87 million monthly unique visitors and generating over 180 million monthly page views. We reach more visitors than top news sites: BBC, VOX, Bloomberg, Reuters, Time, U.S. News and more.
Source: Google Analytics, March 2020