Promote your business or service in the main section of the Los Angeles Times and online at latimes.com
You Might Also Be Interested In
For Print Only, your ad will appear in the Main News section
Publishes Daily in Color with new modular ad sizes, designs and photo options available
For Print + Online, you get all of the above plus online placement on latimes.com
Online ad on latimes.com with California content
Choice of two impressions tiers 100,000 impressions over 3 days or 150,000 over 7 days
Ad will be posted 4 days after ad submission
Two sizes available: Cube (300x250 pixels) or Leaderboard (728x90 pixels)
Populate content and images in one of our predesigned templates or upload your own ad material
Ad will be clickable, driving traffic to your website
Multiple designs with photo options available
Sample Print Ad

Sample Cube Ad

Sample Banner Ad
Deadlines
Print Deadlines vary by the day of the week. The calendar used for scheduling your print ad will only display start dates that are not past deadline. Online ads will be posted 4 days after ad submission. The print ad deadlines are as follows:
| | |
| --- | --- |
| To see Ad on... | Submit By |
| Sunday | Thursday 10AM |
| Monday | Friday 10AM |
| Tuesday | Sunday 10PM |
| Wednesday | Monday 1PM |
| Thursday | Tuesday 1PM |
| Friday | Wednesday 1PM |
| Saturday | Thursday 10AM |
Political, Advocacy, Movies and Cannabis Advertising
These rates do not apply to Political, Advocacy, Movie/TV or Cannabis advertising. These categories have earlier deadlines and a review process.
Contact our advertising team at 1-800-528-4637, ext. 72769 for information and to place your ad.
Political: Ad with the dominant message or purpose the election or defeat of a candidate or a proposition for public office.
Advocacy: An ad that comments about a public or controversial issue.
Cannabis: An ad that has cannabis references, imagery or information.
Movies and Television Shows: These categories are full run only, no partial distribution insertions are accepted.
About Online Advertising
What is an impression?
An impression is when the ad is displayed on the page whether the ad is clicked or not. A single web page may contain multiple ads. In such cases, a single page view would result in one impression for each ad displayed.
What is a page view?
An individual viewing of a web page by a user, often counted when measuring a web site's popularity
Where will I see my ads?
The impressions are tracked and audited. We can send a report that shows the number of impressions for your ad.
What is LA DMA?
LA DMA is defined as the Los Angeles Designated Market Area. It covers all of Los Angeles, Riverside, Ventura, Orange and San Bernardino Counties on latimes.com webpage views.
Size
For Print Ads, mkultiple sizes, designs and photo options available.
For Online, Cube (300x250 pixels) and Leaderboard (728x90 pixels) sizes available.
Reach
Full Run or zoned distribution for Print
DESIRABLE ONLINE USERS
61% of users are age 25-54
70% are home owners
23% have portfolios valued at $100K+
Median HHI of $85,000
MONTHLY TRAFFIC
Unique Visitors: 17 million
Page Views: 158 million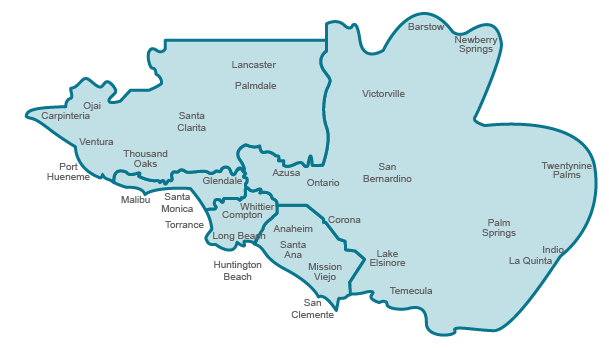 Los Angeles Times
Los Angeles Times
Reach details
#1 news platform in Southern California, delivering a larger audience than any local newspapers, websites, TV and radio stations.
Latimes.com
latimes.com is a national powerhouse, attracting over 87 million monthly unique visitors and generating over 180 million monthly page views. We reach more visitors than top news sites: BBC, VOX, Bloomberg, Reuters, Time, U.S. News and more.
Source: Google Analytics, March 2020